About This Kit:
Transform your classroom into a realm of creativity and social-emotional growth.
This enchanting curriculum, inspired by the humorous picture book story Mr. Snoozle's Exquisite Eggs, engages young minds and nurtures their hearts. Perfect for educators of after-school and summer school programs, as well as teachers integrating STEAM into their curriculum, this program is designed to unlock the potential of elementary school children through the power of the arts.
Book Synopsis:
Mr. Snoozle's Exquisite Eggs Synopsis: Mr. Snoozle is invited to his neighbor's passover seder and is in charge of making eggs. "I know how to make all kinds of eggs!" says Mr. Snoozle. "I can make frittatas and eggs florentine" "But we need hard boiled eggs for the seder!" cries Nanny. Mr. Snoozle researches how to make the most delicious hard boiled eggs, while the delicious smells are irresistible to Mr. Snoozle's dog, Wags. Will the eggs make it to the dinner table?  SEL Themes: This story explores the social emotional theme of emotional resilience and turning to humor when things go wrong.
What is Included:
Comprehensive Digital Kit:
Receive a comprehensive digital kit, complete with a full script, musical score, enchanting soundtrack, lyrical compositions, music videos, artwork and a teacher's guide. 
Arts Integration Lesson Plans:
Implementation of this program is a breeze with a teacher's guide filled with eight engaging arts-based lesson plans in ART, MUSIC, DANCE, DRAMA, READING & WRITING. Our lesson plans are fun and oh-so easy to implement! No prior theatre teaching experience is needed to bring the magic of this program to life. It's designed for educators of all backgrounds. Transform your classroom into a hub of innovation and imagination, where each child's unique talents shine.
Unlock the Magic of Literacy:


This program was designed to provide each child in the classroom with their very own companion picture book to support literacy skills and

build

 a deeper connection to the story. Books are the key that unlocks the door to literacy, inviting young minds to explore exciting new worlds. Ensure every child has their own book and witness the transformation of your classroom into a hub of literary wonder. Add books in the shopping cart at $10 each or $8.50 each for orders of 20 or more.

Nurturing Social-Emotional Growth:
Create an inclusive and supportive environment where every student can thrive, by fostering essential Social and Emotional Learning (SEL) skills including confidence, leadership, communication, teamwork, empathy, and critical thinking. Ignite their love for storytelling, and empower them with the skills they need to thrive in school and beyond.
Intended Audience and Usage:
Mr. Snoozle's Exquisite Eggs Arts Enrichment Kit is tailor-made for educators in after-school and summer school programs seeking innovative arts enrichment programs designed to engage and inspire young learners. Additionally, teachers looking to infuse the arts into their STEAM curriculum will find this program a valuable resource. Simply choose your digital kit, customize it based on your classroom's needs, and watch as your students dive into a world of creativity and social-emotional growth.
Elevate your classroom with this magical program today!
View full details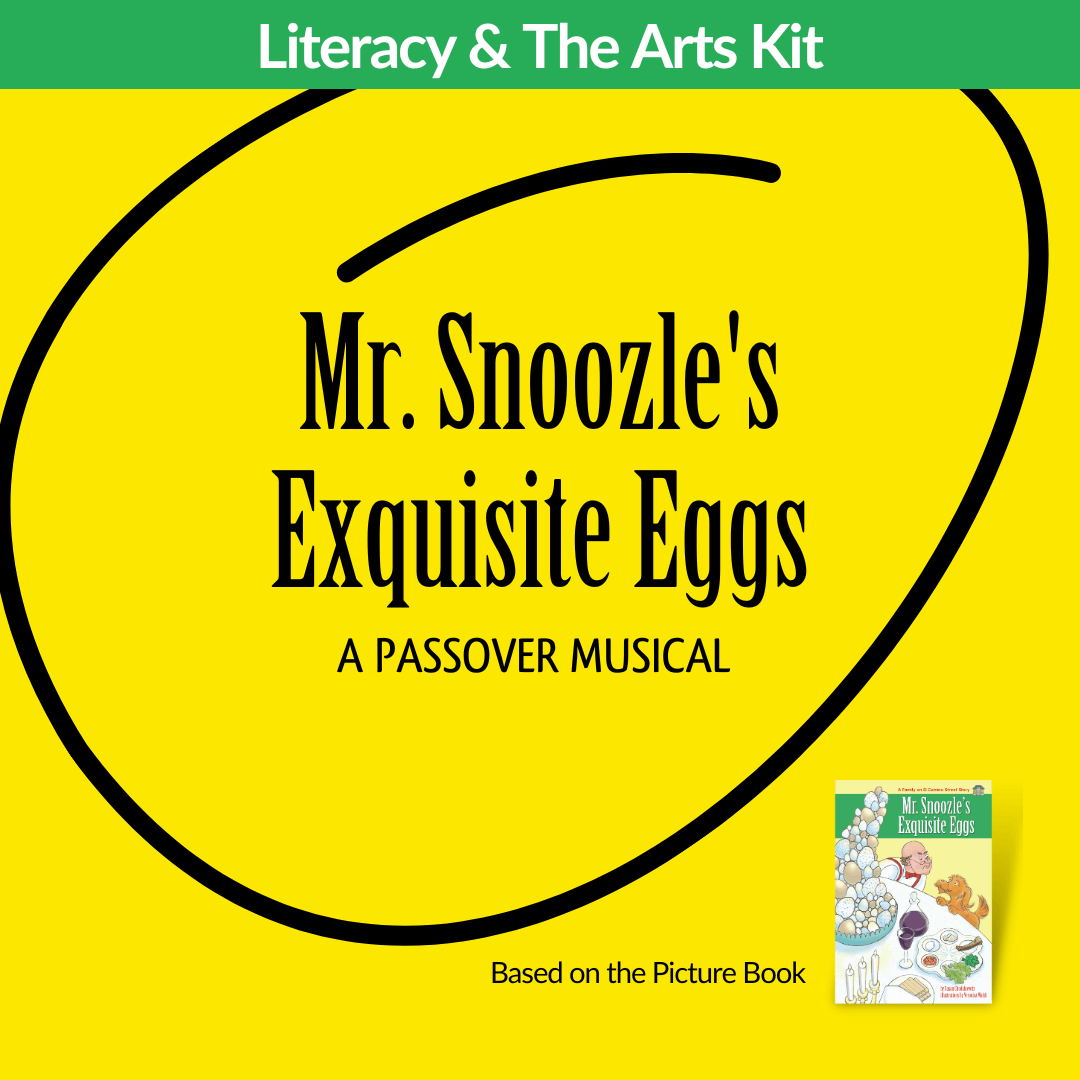 ADD YOUR BOOKS
Picture books are the literary companion to this program and are shipped to you!
$10 each
or $8.50 each for orders of 20+
Mr. Snoozle's Exquisite Eggs Literacy & The Arts Kit
Your downloadable kit includes:
Picture Book Musical Video (MP4)
License for one school ***
* Available on specific titles
** Eight lesson units include: theater, art, writing, music, dance and SEL
*** License includes unlimited performances and rights to video the performance